What is
the best period to plant peonies ?
To obtain the best results in peony cultivation, pay very special attention to the planting process.
Planting bare roots should be done between September and mid-March.
It is better to plant peonies in the autumn so that the root system can grow before the leaves come out.
Planting can be done during the winter period even with frost during the night as long as it disappears during the daytime.
After March, due to the growing of leaves and vegetation, it is not recommended to plant bare root peonies.
If you want to plant later, we offer cultivated plants in containers that you can buy either from our nursery or at the flower shows we go to.
Tip :In case of frost when you receive our plants, place the parcel in a cool area – a cellar or a garage – and open the parcel. The individually packed plants can remain for a month in their packaging without any harm.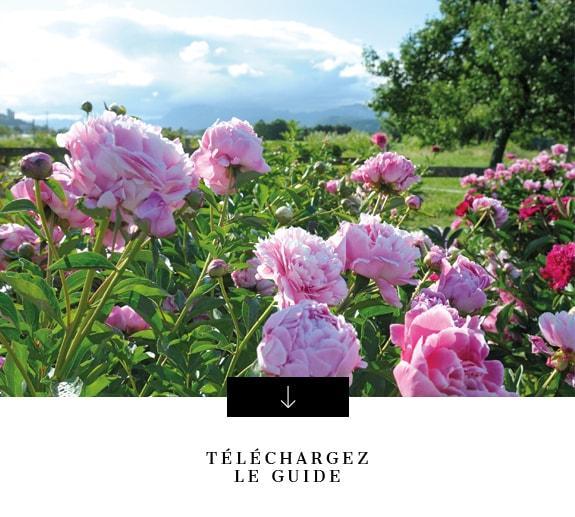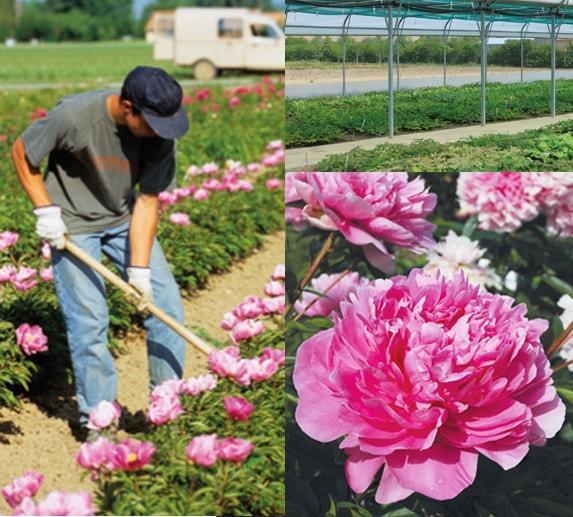 Wat sort of
soil do peony need ?
Peonies need to be planted in full sun.
Try not to get them too close to other plants because peonies don't compete well with other trees and bushes. Avoid planters or pots.
The best type of soil is humus bearing clay loam, well drained and permeable.
Before planting improve the soil by adding sand and peat to make it loose and mellow and by adding organic fertilizer, i.e. manure, thoroughly rotted compost, blood meal, cornaille…
Avoid chemical fertilizers with high levels of nitrogen. The soil can be either slightly alkaline or acid.
Do not over water the plants, make sure the soil is well-drained.
How to
plant peony ?
TREE PEONIES
Give them a surface are of about 1.20 to 1.50 m2. Deep rip the soil to 40 cm and mix the soil carefully with organic fertilizer

Plant the graft 5 to 10 cm deep while taking particular care of the roots and rootlets.
Since the plants are very small at the beginning, we suggest marking the spot to avoid someone stepping on it.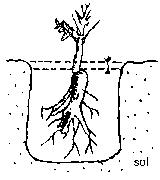 HERBACEOUS PEONIES
Give them a surface are of about 0,80 m². Break down on 40 cm by mixing soil and organic fertilizer well, completely bury the plant, the eyes being covered with 2 to 3 cm of soil, taking care not to turn over any rootlets.
For plants in containers cover the soil of the container completely.